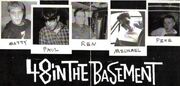 48 in the basement was a punk band from Huntington that formed in 1996 by childhood friends Paul Laino and Mike Koscik . They added members Jeremy D'Amico and Matty Lupinacci which completed the original lineup. They played a fun style of punk clearly influences by Fat Wreck and Asian Man records bands. The band though had undeniable hooks and fun lyrics which made them incredibly memortable.
Over the years the band did go through a number of lineup changes. Through the 7 years that the band was in existence they apparently were often banned by the venues in which they played, due mostly to the antics of lead singer Mike Koscik. They often played with bands such as WCF , Sprout , and Channel 59 . A few months after their second US tour the band called it quits. They played a reunion show with the original members in 2004 at Cedar Beach in Rocky Point , NY and later in 2010 at the Broadway Bar in Amityville ..
To be honest, 48 in the Basement is a band I only have rudimentary knowledge of. My first exposure to them wasn't even live or a recording - they had done the theme song for a local cable access show called Slacker TV which I randomly stumbled one day on Cable. I don't know if the song was kept as the theme song for the entirety of the show's run (from 1997 to 2004), but it was there for all of the episodes I had caught. I saw the band perform 3 times I think, once at Hofstra , once at the Rock Lobster in Glen Head and once at a bowling alley... which one I couldn't tell you.
Many thanks to Paul Laino, guitarist for the band who has went on to become a composer and provided these tracks. This includes their tracks from their demo "She's Not Feeling Well ", their tracks from the "Young N Abrasive " split with the Microwave Orphans , the tracks from the "Hurry Up and Wait " split with the Backup Plan , the self titled final EP and unreleased tracks as well.

48 IN THE BASEMENT - Discography: http://www.mediafire.com/?mssw8r2f37olsvq

Go here for the band's myspace: http://www.myspace.com/48inthebasement Links to video footage from their last reunion in 2010 is here:http://dragonmare.com/wyrmlog/?tag=48-in-the-basement Link to the Slack Pack/Slacker TV site here: http://www.theslackpack.com
Ad blocker interference detected!
Wikia is a free-to-use site that makes money from advertising. We have a modified experience for viewers using ad blockers

Wikia is not accessible if you've made further modifications. Remove the custom ad blocker rule(s) and the page will load as expected.