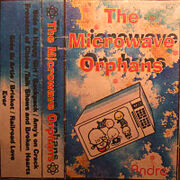 Andre is the 2nd demo by The Microwave Orphans. It was recorded on July 13th 1997 at SUNY Purchase by Andre Bermudez, and released a few weeks later on Eiffel Trousers Records. It was given the release number ET011. The artwork was done by new guitarist Matt Dallow who was previously the merchandising genius behind Freaks From The Apocalypse.
Andre Bermudez and Ian Smith provided the bass tracks on this recording because the bassist at the time Ian Atchinson's mother would not let him spend the day off Long Island to record.
Track Listing :
Download it here
All songs written by The Microwave Orphans except "Freedom of Choice " by DEVO, "Ever " by Flipper and "Beach Song " by The Dead Milkmen
Line up on this recording : Matt Orphan - Vocals, EZ Ian - Guitar/Bass, Sir Topamhat - Drums, Dal Low - Guitar, Andre Bermudez - Bass (Bass on this demo is credited to Nigel Fartsworthy)
Ad blocker interference detected!
Wikia is a free-to-use site that makes money from advertising. We have a modified experience for viewers using ad blockers

Wikia is not accessible if you've made further modifications. Remove the custom ad blocker rule(s) and the page will load as expected.