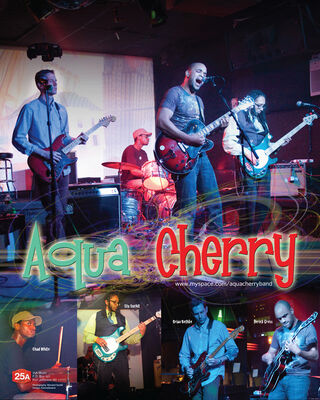 Members
Derick Gross - vocals
Brian Bethke - guitar
Stu Suchit - bass
Chad White - drums
Early History
Aqua Cherry began when craigslist brought together Stu and Derick, who found common musical ground in a love for soaring guitars, intense vocals, and booty-shakin grooves. Brian and Chad joined shortly after to cement the lineup of Long Island's hardest working band. In their first year Aqua Cherry played nearly 30 live shows and studio events. They played the Upper East Side Music Festival and the Connecticut Film Festival, traveled to Boston for a Haiti relief benefit, and interviewed and performed for University of Hartford radio as well as Joy Rose's and Rew Star's podcasts. Aqua Cherry was featured on the Radio Crystal Blue Novus Ordo podcast, performed three songs for Cablevision's cable access TV show New Music Now: Unsigned, opened up twice at Arlene's Grocery for the acclaimed Rock'n'Roll Karaoke, recorded the five song So Pretty EP with Killingsworth Recording Company, and filmed an amazing music video for "Puppet" with director Aaron Lehmann.
2010 - Drowning in the Shallow End
Amidst a heavy schedule of Manhattan gigs and festivals in New York and Miami, Aqua Cherry returned to the studio to record 10 new tracks for the full length album Drowning in the Shallow End. The album is diverse, high-energy, and showcases a wide range of musical styles; funk rock and reggae tunes blend with tender love songs and arena rock anthems for an immersive rock and roll experience. Together with the acclaimed So Pretty EP, Drowning in the Shallow End makes good on a promise to keep bringing fans a lot of great music to enjoy.
Stage Presence and Live Performances
On stage, Aqua Cherry is all about enjoying the moment with their fans. Drummer Chad White brings an infusive energy that radiates through Brian Bethke's soaring guitar solos. Stu Suchit's intoxicating bass grooves converse with the thoughtful and playful lyrics of vocalist Derick Gross, inviting you to sing along while you dance the night away. Aqua Cherry plays frequently in New York City at such venues as Arlene's Grocery, Parkside Lounge, and Crash Mansion, as well as venues in Long Island, New Jersey and beyond.
Unique to the Aqua Cherry experience is the Aqua Cherry Sticker, a smiley face sticker that has become the band's signature. Outgoing fans are known to cover the venue as well as themselves in stickers, often in creative patterns (ie "Aqua Boobs"). It is also part of the Aqua Cherry culture to post pictures of the Aqua Cherry Sticker seen at live shows and around town on Facebook.
Discography
So Pretty EP (2010)
Track listing:
So Pretty (3:22)
In My Head (5:01)
Come Out Tonight (2:23)
Puppet (4:37)
Twilight (3:22)
Drowning in the Shallow End (2010)
You (3:17)
Ex Machina (4:01)
Wolfman (3:05)
Oh (3:38)
Seasons (3:36)
Body Machine (3:51)
Ripoff (5:21)
Thinking of You (4:23)
Call Me Doctor (2:46)
Drowning in the Shallow End (3:45)
Contact
www.facebook.com/AquaCherry
www.myspace.com/aquacherryband
Ad blocker interference detected!
Wikia is a free-to-use site that makes money from advertising. We have a modified experience for viewers using ad blockers

Wikia is not accessible if you've made further modifications. Remove the custom ad blocker rule(s) and the page will load as expected.