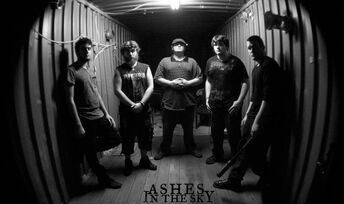 A 5 piece Rock/Metal band from Long Island, New York. Consisting of 3 brothers and their two best friends.
Section heading
Edit
Ashes In The Sky is a Hard rock/Metal band based out of Long Island, New York, made up of five guys (Andrew, Anthony, Pat, James, & Dave) with a straight up passion for music. Them as individuals are influenced by many different bands, ranging from many different genres, and have played a huge number of shows on Long Island. They released an EP (What Makes A Man) that was recorded out of Westfall studios in 2012.
In The Beginning (March 2010)
Edit
(details coming soon)
Ad blocker interference detected!
Wikia is a free-to-use site that makes money from advertising. We have a modified experience for viewers using ad blockers

Wikia is not accessible if you've made further modifications. Remove the custom ad blocker rule(s) and the page will load as expected.