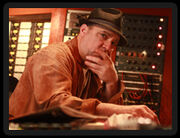 James Sabella has been in the music industry for more than 30 years, starting as a student of classical guitar with interest in pop music & influenced by the artists of the 60s. He attended the University of Venezuela, the Juilliard School of Music and Mannes School of Music.

His professional career started in the mid-70s with guitar session work at various studios and club performances. He was signed to RCA Records and MCA Records as an artist in the early 80s. Because of his huge interest in the recording process, he became an independent recording engineer/producer, still continuing to play as an artist.

He has taken the blend of musician/engineer/producer and built a state-of-the-art facility located away from the hectic pace of Manhattan. The studio was designed by Frank Commentale (designer of the Hit Factory). Sabella Recording Studios received independent and major label recognition with such platinum records as Public Enemy's -Nation Of Millions- in 1984 and Marcy Playground's debut release in 1997. The Marcy Playground success brought a whole new crop of young bands into the studio, and three of them won excellence awards as the best unsigned talent and several are now signed on independent labels. In-house producing and talent development is one of the added strengths of Sabella Studios. http://www.sabellastudios.com
Ad blocker interference detected!
Wikia is a free-to-use site that makes money from advertising. We have a modified experience for viewers using ad blockers

Wikia is not accessible if you've made further modifications. Remove the custom ad blocker rule(s) and the page will load as expected.