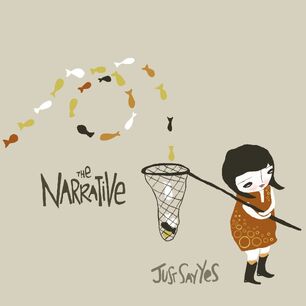 Just Say Yes
is an EP by
The Narrative
featuring six songs and produced by Bryan Russell. It was released on 30 August 2008.
The EP received positive reviews at AbsolutePunk.net "If you do not love Just Say Yes upon first listen, then odds are you will by your fifth (and onto your thirtieth) for certain, as dissecting these little pop gems is as fun as getting lost in their surface grandeur."
The songs "Waiting Room" and "The Moment That It Stops" are featured in TV shows on MTV (Real World - Brooklyn and Jersey Shore Season 4, Ep.30)
Track Listing
Edit
No.   Title                                              Length                                              Lyrics
Castling

                                               

4:19

                                             Suzie/Jesse

The Moment That It Stops

                        

4:56

                                             Suzie/Jesse

Eyes Closed

                                         

4:30

                                             Suzie/Jesse

Libra

                                                    

5:25

                                             Suzie/Jesse

The Photographer's Daughter

                  

3:49

                                             Suzie/Jesse

Waiting Room

                                       

4:18

                                             Suzie/Jesse
Total length:27:12
Suzie Zeldin - Vocals, keys
Jesse Gabriel - Vocals, guitar
Additional personnel
Bryan Russell - Producer at RedWire Audio
Ad blocker interference detected!
Wikia is a free-to-use site that makes money from advertising. We have a modified experience for viewers using ad blockers

Wikia is not accessible if you've made further modifications. Remove the custom ad blocker rule(s) and the page will load as expected.