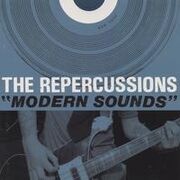 Modern Sounds is the full length debut by Long Island garage rock band: The Repercussions, released February of 2005 on E.S.C.H.E. Records.
The Repercussions bring to the table a refreshing stew of 50's R&B, 60's Garage Rock & British Pop, Motown & Stax Soul and 70's Punk Rock & Power Pop that can go from a slow simmer to a rapid boil at the drop of your pants.
Track Listing:
| | |
| --- | --- |
| 1. Everything Is Going To Be Alright Because We're All Going To Die | |
2. Running Barefoot Through The Snow In Nothing But My Underwear and a Modern Lovers T-Shirt
3. If Being Alone Was An Artform I'd Be The World's Greatest Fucking Artist
4. Heather In Pleather
5. It's In The Bag
6. Where We're Going We Don't Need Roads
7. An Asshole Is An Asshole
8. Curiosity Killed The Cat, But It Just Took My Thumb
9. I'll Love You 'Til I Die (And Probably After That)
10. Another Night In A Van
11. A Whole Lotta Empty
12. I Saw You Smiling, So I Just Had To Kill You
13. Bridges Aren't The Only Things That Are Burnt
14. There's No I In Hoebag (Matt's 19th Nervous Breakdown)
Ad blocker interference detected!
Wikia is a free-to-use site that makes money from advertising. We have a modified experience for viewers using ad blockers

Wikia is not accessible if you've made further modifications. Remove the custom ad blocker rule(s) and the page will load as expected.