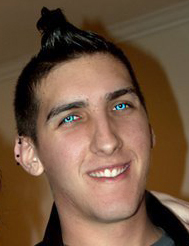 Petey Plastic
Peter Sapinsky was born and raised in the town of East Rockaway. When he was 14 he moved to Levittown. Since he had so much spare time he created this Internet persona "Petey Plastic" for fun and never expected the kind of success that he had achieved.
Biography
Edit
Petey first started on the internet at the age of 14 years old. He starting talking to so called "internet celebrities" on websites such as stickam and myspace and started to become more known in the industry. At the age of 15 petey had applied for an entertainer account on stickam. He was then featured on the front page every time he would have a webshow.
Petey started out freestyling and hosting karaoke nights on the site. As his popularity grew more people started getting into his music. People would always say " Your voice is amazing" and "Your flows are really good" , and with all these compliments he finally started making music.
At the end of 2007 Petey had reached over 1.5 million webcast views and started working on his first single.
He released his song "Star Fuckers" on September 11th 2008 and it was for sure a hit. This song opened his eyes and he started making more music.
Petey's song Addicted To The Fame was release on April 3rd, 2011.
Petey has been working on music with Lucian Walker aka Godspaparazzi, The Jem Life, and other artists.
Currently in 2012, Petey is working on a new ep, as well as a full length cd.
Recently he annocuned that he will be featured on an established and well known artists new cd.
Ad blocker interference detected!
Wikia is a free-to-use site that makes money from advertising. We have a modified experience for viewers using ad blockers

Wikia is not accessible if you've made further modifications. Remove the custom ad blocker rule(s) and the page will load as expected.