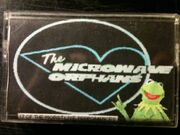 Precise Microwave Orphans Order : 17 of The Worst Live Performances is a live cassette compilation by The Microwave Orphans. It was recorded from January 26th 1997 - October 31st 1998 and released on Eiffel Trousers Records. It was given the release number ET027. The artwork was done by Matt Roren, the bands logo was taken from The Modern Lovers , as the name of the release was taken from their live compilation Precise Modern Lovers Order.
Track Listing :
All songs written by The Microwave Orphans except "The Beach Song " by The Dead Milkmen , "I Wanna Be a Homosexual " by Screeching Weasel , "Imperial March " by John Williams , "Gimme Gimme Gimme " by Black Flag , "Freedom of Choice " by DEVO and "The Time Warp " by Richard O'Brien
Line up on these recordings : Matt Roren - Vocals (Tracks 1-17), Ian Smith - Guitar (Tracks 1,3,4,6-9,11,12,14-17)/Bass (Tracks 2,5,10,13) Jason Deford - Drums (Tracks 1-17), Andre Bermudez - Bass (Tracks 1,6,8), Matt Dallow - Guitar (Tracks 2,5,6,8-11,13-17)/Keyboards (Track 12), Jay Porta - Bass (Tracks 3,7) George Mcredmond - Bass (Track 4), Mark Ciani - Keyboards (Track 8), Ian Atchinson - Bass (Track 9), Paul Como - Bass (Tracks 11,12,14-17)
Ad blocker interference detected!
Wikia is a free-to-use site that makes money from advertising. We have a modified experience for viewers using ad blockers

Wikia is not accessible if you've made further modifications. Remove the custom ad blocker rule(s) and the page will load as expected.