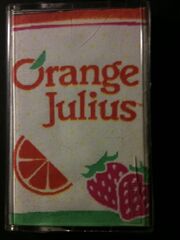 Remember Orange Julius is a cassette by The Microwave Orphans. It was recorded at Paris Studios in Ronkokoma by Brian Unger as part of the 1998 sessions for Young and Abrasive (which 4 out of 5 of these tracks would appear a couple months later), and was released on Eiffel Trousers Records as a limited run of 40 copies made specialy for the Cancer Sucks benefit show. It was given the release number ET019. The interior artwork was done by Angelo Blanda. the cover was just a scan and color print of an Orange Julius cup. The liner notes contain the recipe to make an Orange Julius, but while writing it down Angelo who is known for his typos mixed up teaspoon and tablespoon in the recipe for vanilla extract, so that's why your Orange Julius' never turned out right.
Track Listing :
All songs written by The Microwave Orphans
Line up on this recording : Matt Roren - Vocals, Ian Smith - Guitar/Bass, Jason Deford - Drums, Matt Dallow - Guitar/Keyboards, Paul Como - Bass
Ad blocker interference detected!
Wikia is a free-to-use site that makes money from advertising. We have a modified experience for viewers using ad blockers

Wikia is not accessible if you've made further modifications. Remove the custom ad blocker rule(s) and the page will load as expected.