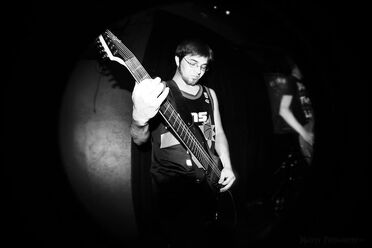 Vito Racanelli is the Rhythm Guitarist of the Long Island metal band Insanium.  He originally joined as the bassist, but was moved to guitar after Rob Walsh left the band. The band plays on Long Island as well as NYC, and the Tri-state. They have recently released their long awaited album "Solitary Confinement" on June 3rd 2014 to rave reviews and can be purchased on iTunes. This metal band has captured new fans with their symphonic melodies and poetic vocals as well as instrumental harmonies. They are a force to be reckoned with on a professional level, in a national arena, in a major venue!
"Alter Vitos"
Edit
Vito is known for his alter egos, referred to by the band as "Alter Vitos".  Every Alter Vito is different from one another, each complete with their own voice/accent and personality.  Really the only thing they have in common is the big V himself!
Rex is your run of the mill southern redneck.  He loves a good mud puddle and a good tractor ride.  He dosn't like black people.
Aunt MoishaEdit
Aunt Moisha is the Jewish aunt you never had, and are glad you never had.  Her whiny, hacidic accent makes her presence borderline unbearable.  However, her caring, naive demeanor makes her generally adorable.
Beverly is a pretentious teenage girl from Southern California.  Her accent makes her sound like a ditz, and it's hard to take her seriously.  Most don't enjoy her.
Chip WelmontEdit
With signature phrases such as "look at the gams on that dame", this 1920's newscaster will swoon you with his transatlantic accent faster than you can do the charleston.
Ad blocker interference detected!
Wikia is a free-to-use site that makes money from advertising. We have a modified experience for viewers using ad blockers

Wikia is not accessible if you've made further modifications. Remove the custom ad blocker rule(s) and the page will load as expected.